This round I am happy to cross off the square Novel that has 500 pages or more, a square I wondered if I'd be able to fill in.
This book is a massive read, at 552 pages plus extras it is a huge undertaking.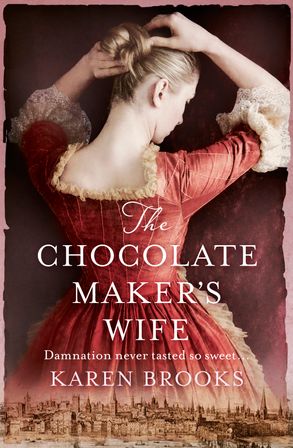 To start with, I have to say that it took me a while to become completely engrossed in this novel, not because I wasn't enjoying the story, because I was, but because I got rather annoyed with being told over and over how our heroine Rosamund's beauty and laugh and smile were so wonderful that everyone around her was completely changed when she shone any of these things upon them. It got to the stage I actually started rolling my eyes. As the story progressed, we heard a bit less about these incredible qualities and I was able to enjoy the story much more, by the 150page mark I was loath to put the book down to go to bed and despite the size of it, I did indeed take it to bed to read.
The Chocolate Maker's Wife was a fascinating look at the period of 1660-1666, a time in London's history that I had little knowledge about and I was eager to keep reading both for the history and for the storyline itself.
Set against the decadent, chaotic backdrop of Restoration London, the plague, and the Great Fire, The Chocolate Maker's Wife is a tale of revenge and redemption, love and hope—and the sweet, sinister temptation of chocolate.
Since chocolate for me is a must have food group, I was fascinated in the history of chocolate and chocolate making, I really enjoyed reading about the way different additives were used all the way back then to help with moods and health problems. I'm glad I live in a time where chocolate is readily available, though I would love to try chocolate the way they made it in Rosamund's chocolate house.
There are plenty of secrets and plots happening throughout this story, some more sinister than others. There were some secrets we uncover near the end that I had for the most part already figured out, but there were times I was completely on edge about what was going to befall our characters next. I really loved our heroine by the end of the story and was hoping everything would work out for her. I loved the way she treated everyone as an equal and gave everyone a chance. I loved the characters who were her constant companions, especially  Bianca & Jacopo, I even came to enjoy her cousin Sam, despite my initial dislike of him. I really liked Matthew Lovelace and enjoyed getting to know him and uncover his story.
Yes this is a giant read, but it is definitely worth finding the time to read it. I will  be looking at Karen Brooks' previous novels and have already started listening to the audiobook of her novel The Locksmith's Daughter.
Thanks to Beauty & Lace Club and HQ Fiction for a copy of this book in return for an honest review.